The Challenge
Reducing the Number of Customer Service Calls and Improving Data Collection
The primary goal for this digital application is the fast and effective handling of client insurance and medical needs, with round-the-clock, global availability. In order to optimize responsiveness, DavidShield needed a self-service app that would reduce calls to customer service while simultaneously collecting better data about medical service suppliers in each location.
The Solution
An Advanced Self-Service Application
We conducted in-depth research and mapped the business requirements and customer experience required for developing this solution. Having accurate, location specific data is a critical first step for each customer engagement. A push notification with a link back to the app verifies GPS location data and sends it to a secure server for anti-fraud purposes. The app continually verifies location data as a security measure each time the David Shield card is used.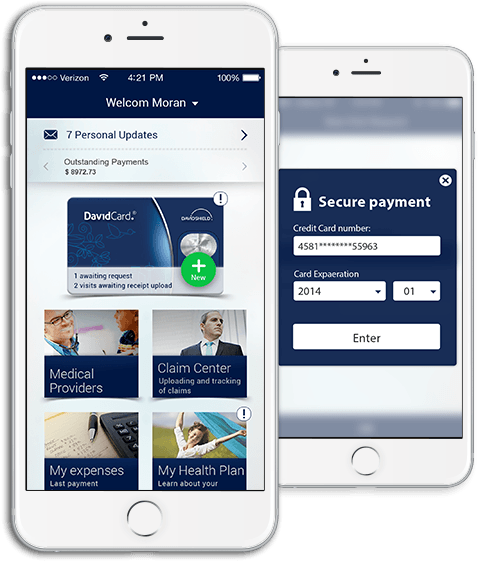 Enhancing Location-Based Knowledge
Location specific knowledge benefits the quality of service the company can provide its clients. To achieve that, the app crowdsources details and recommendations about doctors, service providers and specific treatments .
Speeding Up Payments and Claim Tracking
A push notification is sent three hours after a doctor visit, reminding the client to scan the bill with the app. A digital wallet feature allows clients to load a debit card with funds in local currency and directly pay for the approved treatment. There is no need to track payments or file for reimbursement, speeding up all processes and relieving customer service.
The Benefits
The DavidShield Self-Service App achieved three major objectives:
1) reduction of customer service calls, which lowered costs
2) collection, optimization and expansion of data, enabling the recommendation vetted service providers
3) two-way communication helps the company understand client needs while offering high service availability