The Challenge
Developing a Smart Application to Improve the Lives of People with Parkinson's
The first challenge was creating a smart application synchronized with a smartwatch for Parkinson's patients, to help them and their families continually examine the disease progression. Through continuous monitoring and support they can obtain indications of their medical condition and unusual or unexpected behavior. Since Parkinson's causes tremors, the smartwatch is an invaluable tool to easily monitor such movements.
The second challenge was to help the Michael J. Fox Foundation and Intel's Big Data experts collect information for a study of the manifestations of the disease through intensive behavioral analysis. The goal of this research is to learn how patients lives can be improved now, as well as the lives of those who will be diagnosed in the future. Intel provided advanced Big Data components that enable the immediate analysis of data collected in real time.
The Solution
A Smart iOS App Using Swift Technology
We rapidly executed and delivered the upgrade of an existing application and then developed a native iOS app using the new Swift technology, while rapidly advancing the Android version. The application assists in various aspects of daily life, such as:
• reminding when and how to take medication
• alerting 30 minutes prior and analyzing the effect of the medication on the patient 30 minutes after taking it
• through a series of questions, defining symptoms specific to each patient
• monitoring hand tremors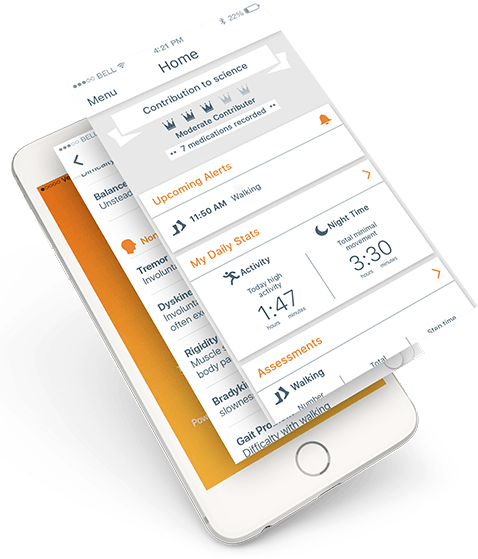 Transferring Application Management to the Server Side
We have made the transfer in order to enable automatic changes and corrections of all versions. For example, when the government updates the list of approved medications in its "healthcare basket", such updates can be uploaded to the server and from there synchronized directly with all devices. Content management has also been transferred to the server side, which enables the creation of a permissions system to support the application and define, for instance, who can view test results and up to what level of confidentiality.
The Benefits
The application improves the daily lives of people with Parkinson's and their families, while sending indications at each stage of the disease progression, including:
• reminders
• effects of medication
• self-examinations
• analysis of disease condition based on pre-defined symptoms
• automatic collection of critical data
Some Of Our Digital Health Engagements