The Challenge
Improving the digital order assembly process 
Mega's online orders are allocated to the buyers closest location, with the basket of items collected by people called "pickers". The order distribution and assembly process was broken and needed to be optimized.
Order assembly resembled a restaurant kitchen, with printed orders that took up to an hour to fulfill. As the process was manual, there were many errors that caused financial loss and customer dissatisfaction, especially during peak load times. The learning curve for new pickers was very tedious and hard to master and the work interface for managers was inefficient.
An Advanced, Dedicated Order Assembly Application
We first performed a full requirement specification that included observation and questioning at the branches, and interviews with key personnel at the head office and in the field. After in-depth research, we developed a concept for the solution with input from the client and employee feedback.
In the first phase of development, we created the Pickers Application that optimized the order assembly process, and in the second phase, we developed the back office web interface for the supervisors and head office monitoring and tracking module.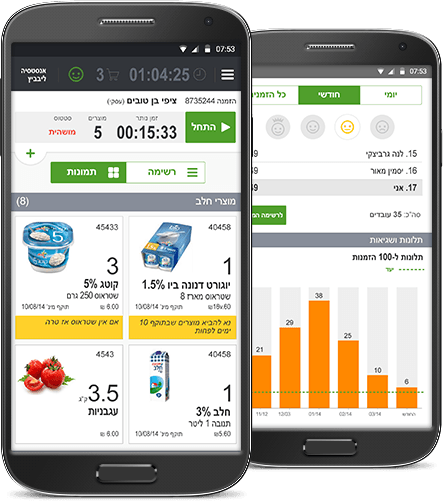 Yigal Ehrlich, CIO  "We found a true partner for planning, specification and implementation. All along the way, we felt that the team functioned as an integral part of our organization. It was important to them to learn and understand every operational and business detail, and as a result, we obtained a system specified and developed to provide a full and precise solution. All of this with the highest standards of quality and service."
Ilan Yuval, Operations Manager "The e-commerce market in Israel and around the world is still seeking high-quality, efficient solutions in the area of operations and logistics. We received a product that is exactly what we wanted, which is no trivial thing in the technological world. We received a true solution for our need! The system has a convenient user interface, and certainly meets the targets set for the project."
The Benefit
The new application exceeded expectations and brought about significant change:
•  Average order assembly time dropped from one hour to 40 minutes
•  Errors per order were significantly reduced
• The pickers learning process was reduced
•  The application is very stable and significantly more reliable than previous systems
•  Integrated with IBM WebSphere Commerce
Some Of Our Related Engagements